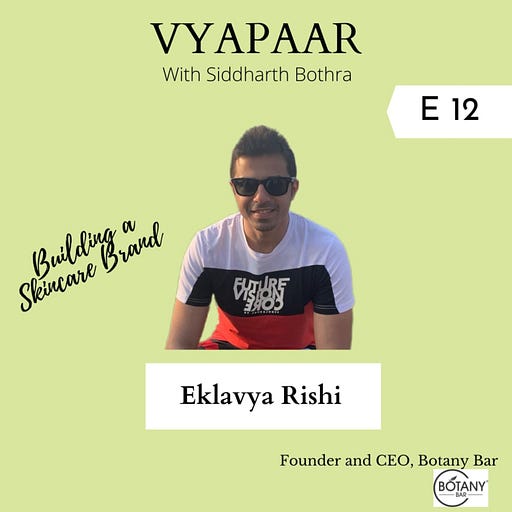 Mar 2, 2021 • 37M
EP12 : Exploring Cosmeceuticals w/Botany Bar's Eklavya Rishi
Enter the world of entrepreneurs and innovators. Their Journeys. The Failures. The Tough Spots. And the Ecstasy. Website: https://sid.business
In this episode, we invited Eklavya Rishi - owner of Botany Bar, a company which makes cosmeceuticals - products which provide skin treatment. I have not really tried a lot of skin care products in my life (used a face wash once or twice :P), but I have seen the people around me use it and one thing that stands out - is the cost.
Skin care, is quite expensive - especially if it's branded. Plus, you don't really know if what you're using is sourced from natural ingredients. Rishi explained how the idea for Botany Bar came to him, when he saw his friends being ignorant about skin care - shelling out a lot of money on skin care products, on ayurvedic brands, or engaging in home remedies.
He wanted to change that. And Botany Bar was floated. We discussed about the challenges Rishi faced while starting the Company, it's current product offerings. Rishi emphasized how important it was for him to source only the purest of raw materials.
We also touched base on how Rishi differentiates himself from other skin care companies out there and how his bio-chemistry background helps him to maintain a competitive edge, how he creates brand awareness for the Company, and how he has priced the products to strike the perfect balance of premium and cost efficiency. (a Botany bar skin oil costs only INR 400!) Rishi's vision for Botany Bar is to occupy & become a necessity product for each Indian household going forward. They also plan to launch a range of other skin care products which were stuck in the pipeline due to COVID-19.
Finally, we asked him a question he gets asked the most - 'What's the story behind the name?!' You can check out their products here - https://www.amazon.in/s?i=merchant-items&me=A3W17ZOOOLTZ6V