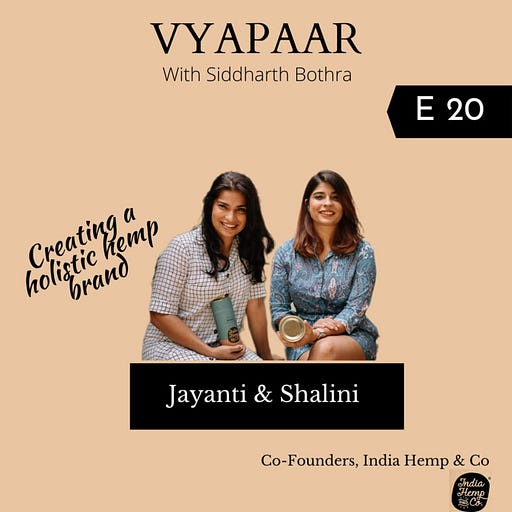 Sep 8, 2021 • 56M
EP20 : Building a Holistic Hemp Company w/India Hemp & Co's Jayanti & Shalini Bhattacharya
Enter the world of entrepreneurs and innovators. Their Journeys. The Failures. The Tough Spots. And the Ecstasy. Website: https://sid.business
In this episode, I invited Jayanti & Shalini - two sisters who have created India Hemp & Co, a company which sells various products made from Hemp - like protein powder, hemp oils etc.
We talked about a range of topics in this episode like:
1. The central idea behind building a company in the Hemp space
2. Challenges faced during the initial days (insert - the pandemic) & how they turned crisis into opportunity. Also spoke about the GTM strategy and the target market of the company.
3. How being incubated with IIM-Bangalore have helped in the brand building process
4. The product offerings, the manufacturing & sourcing process and the regulatory landscape around Hemp in India & abroad
5. IH&C's NEW PRODUCT LAUNCH - GOOD DOGGO TREATS. We discussed the R&D process, how they came up with the idea to create something in the pet space. IH&C is the only company to launch a hemp treat for pets!
6. Talked about the potential of Hemp, how it could disrupt various sectors & why it is the next BIG thing.
7. Jayanti & Shalini's words of wisdom for anyone entering the Hemp or the F&B space
8. IH&C's long term vision and how they plan to capture opportunities in this space
And, understanding the experience of working with a sister who is also the co-founder. [Well, their secret is that they never fight! :p]
If you're someone interesting in the hemp space or want to learn how to build a sustainable/creative brand - this episode is just for you.
Find more about IH&C here - https://www.indiahempandco.com/