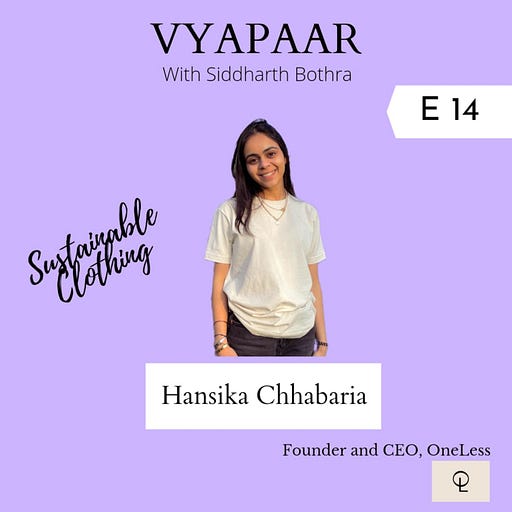 Apr 17, 2021 • 31M
EP14 : Venturing into sustainable fashion w/OneLess's Hansika Chhabria
Enter the world of entrepreneurs and innovators. Their Journeys. The Failures. The Tough Spots. And the Ecstasy. Website: https://sid.business
In this episode, I invited Hansika Chhabria - owner of OneLess, a sustainable clothing company. The fashion industry is the second largest polluter in the world after the Oil industry.
To build some context, it takes around 20,000 Liters of water to make just 1kg of cotton! Imagine that, in a country like India where there's massive water shortages.
And, to address this problem statement - Hansika started OneLess. We spoke about how Hansika got into sustainable clothing & what motivated her to become an entrepreneur. We discussed about the pain points that OneLess is targeting and the processes they have in place which truly makes OneLess a sustainable clothing brand.
The journey wasn't an easy one by any means. Hansika faced a lot of setbacks early on - because they were experimenting with materials which were never used before to make clothes [Hint: Bamboo]. The learning curve was a steep one. Hansika explained how OneLess differentiates itself from Competition and why research is extremely important for anyone looking to enter in this field.
We also deep dived into the long term vision of the Company and I couldn't end the conversation without asking her how she came up with the name 'OneLess'. It was a fun packed conversation & I personally cannot wait for their Bamboo products to hit the market!
If you want to find out more about OneLess, check out their website - https://oneless.co.in/