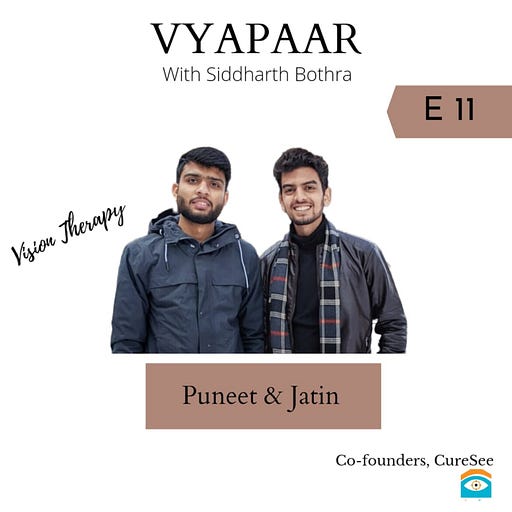 Feb 7, 2021 • 39M
EP11 : Treating Amblyopia with CureSee's Optom Puneet & Jatin Kaushik
Enter the world of entrepreneurs and innovators. Their Journeys. The Failures. The Tough Spots. And the Ecstasy. Website: https://sid.business
In this episode, I invited Puneet & Jatin - co-founders of CureSee, a company which has created a vision therapy software to treat an eye condition known as 'Amblyopia' or better known as Lazy eye.
Around 3-5% of the global population suffer from this condition and most of them are not even diagnosed. The situation in India is worse, because not only the patients, but the doctors are also not aware about the treatments of Amblyopia.
That's where CureSee steps in. They have created a large scale awareness among doctors through countless seminars and workshops. Puneet was doing his internship in an eye care hospital, when he saw a patient suffering with lazy eye go untreated. That disappointed him and he wanted to do something about it. And that's how CureSee was born.
We spoke about the initial days of the Company, how Jatin iterated and created the vision therapy software. We spoke at lengths about how lazy eye is different from other eye conditions like squint.
(I had a lot of doubts) Puneet explained how the software works (it's actually a series of eye exercises!), the revenue model of the Company and how they were able to substantially reduce the price of treatment. You can find more about CureSee on their website - https://curesee.com/