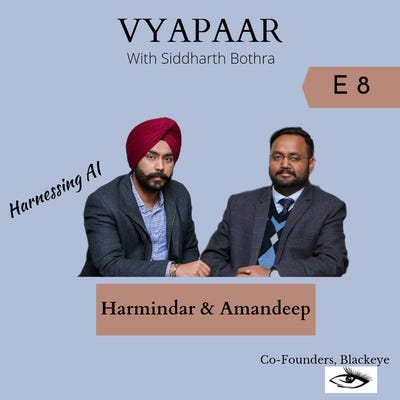 Dec 6, 2020 • 29M
EP08 : Harnessing AI to solve environmenal problems w/Black Eye's Amandeep & Harminder
Enter the world of entrepreneurs and innovators. Their Journeys. The Failures. The Tough Spots. And the Ecstasy. Website: https://sid.business
In this episode, I invited the Co-Founders of Black Eye Technologies, which is a Company helping farmers conserve water by harnessing the power of AI & IoT.
They have also developed a device which runs on Algae and helps factories keep their CO2 emissions in check. Their mission is simple - harnessing the power of AI with the vision to heal the nature.
They have a couple products in the pipeline. One is a GPS based accident notification software called 'VAN' - which alerts the owners of vehicles of accidents on a real time basis.
The importance of that cannot be emphasized enough. Second is a cloud based software which connects a patient with a doctor in a seamless way - something that could change the way healthcare works in the country.
(00:00): Introduction
(01:57): Getting to know the amazing minds behind Black Eye - Amandeep & Harminder ~ overcoming the water scarcity problem in farming
(06:40): Irrigation Alert 2.0 : a smart device which alerts farmers when their land is in need of water ~ understanding how it works
(10:19): Simplicity is the key to success ~ finding answers through simplicity
(12:37): The founders have created a device that helps factories keep a check on their CO2 emissions ~ the story behind the invention of AROG
(16:25): Talking about AROG's market position ~ what's in the pipeline for Black Eye?
(19:34): VAN - a vehicle accident notification device ~ talking about it's market opportunity
(22:33): In the pipeline - A medical device which could change the way healthcare works in the country
(26:25): Amandeep's two cents for anyone who wants to become an entrepreneur