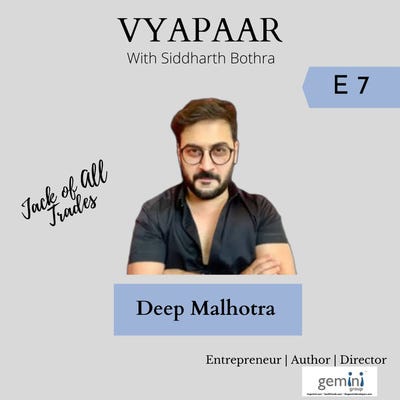 Oct 18, 2020 • 45M
EP07 : Entrepreneurship 101 w/Deep Malhotra
Enter the world of entrepreneurs and innovators. Their Journeys. The Failures. The Tough Spots. And the Ecstasy. Website: https://sid.business
In this episode, I invited Deep Malhotra - who is a real estate developer and he has started several companies like Gemini New Media Ventures, Beck Friends.
We spoke about Deep's personal journey, how he pivoted from being one of the main guys in Google India marketing team to then joining his family's real estate business.
Deep has also written a book called 'Brick, Cement & Dotcom' which talks about the stark realities of the business world.
You can read it here
(00:00): Introduction
(02:16): The decisive factor that pushed Deep to pursue entrepreneurship
(07:29): Deep was one of the co-founders of Google India's marketing business ~ find out how he found his way into that opportunity
(11:00): The challenges faced by Deep while making the switch from Google to the family Real Estate biz
(14:21): A dive into Deep's Real Estate company - Gemini New Media Ventures
(19:03): A business model that explores unused baggage on international travel - find out about Beck Friends & how Deep came up with the idea
(24:28): Talking about Deep's book - Brick Cement & DotCom ~ what was the process of writing a book like?
(28:33): Deep's ecstasy on the encouraging reviews he gets for his book
(30:51): His entry into the world of film-making ~ talking about how he got inspired to dip his fingers into this space
(35:03): We're both movie buffs - and take a bit of tangent talking about our favorite Nolan movies!