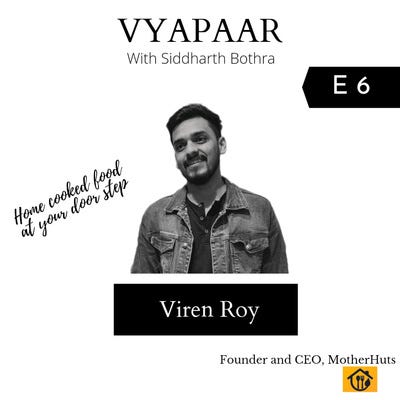 Oct 2, 2020 • 40M
EP06 : Home cooked food at your doorstep w/Motherhuts' Viren Roy & Govinda Malakar
Enter the world of entrepreneurs and innovators. Their Journeys. The Failures. The Tough Spots. And the Ecstasy. Website: https://sid.business
In this episode, I invited Viren & Govinda - who cofounded Motherhuts, a company which provides home cooked food at your doorstep.
Viren told me how they came up with the idea to start this company, and Govinda deep dived into the entire process of onboarding a cook, maintaining quality control.
We also discussed the revenue model and how it's different from other [deep cough] *unprofitable* food delivery businesses out there! You can find more about Motherhuts here
(00:00): Introduction
(01:30): How did Viren & Govinda come up with the idea to start MotherHuts?
(07:53): Was it difficult to get cooks on board with MotherHuts? ~ how did they ensure quality control for every cook that joined?
(13:11): Ordering process/Pricing plans/Customer benefits
(22:39): How is MotherHuts different from other food delivery apps? ~ Viren & Govinda's take on why these online food platforms are at loss
(30:57): What is their vision for MotherHuts?