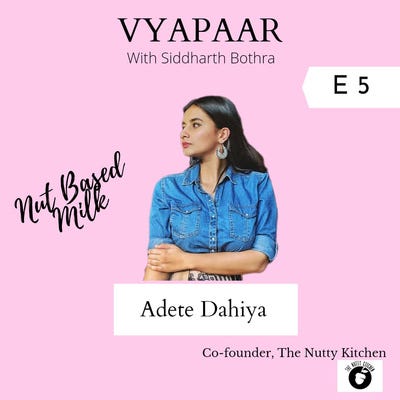 Sep 27, 2020 • 20M
EP05 : Benefits of Nut based milks w/The Nutty Kitchen's Adete Dahiya
Enter the world of entrepreneurs and innovators. Their Journeys. The Failures. The Tough Spots. And the Ecstasy. Website: https://sid.business
In this episode, I invited Adete Dahiya, who along with her brother Siddhant set up a nut based milk company called 'The Nutty Kitchen'.
Adete told me how they came up with the idea, the target audience and the market size for nut based milks. We also spoke about the logistics, the current delivery model and the next phase of expansion.
If you live in Delhi NCR, order your bottle of nut milks here.
(00:00): Introduction
(01:19): How did Adete come up with the idea of starting The Nutty Kitchen? ~ talking about the target market for nut based milk
(08:05): Adete's two biggest challenges in the initial days
(11:03): Talking about parents being involved in the company and also the learning process
(13:24): Adete's issues in scaling the business ~ shelf life logistics
(16:28): What does Adete want to achieve with The Nutty Kitchen?