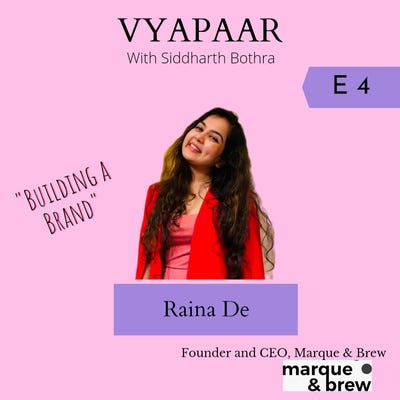 Sep 19, 2020 • 25M
EP04 : Building brands w/Marque & Brew's Raina De
Enter the world of entrepreneurs and innovators. Their Journeys. The Failures. The Tough Spots. And the Ecstasy. Website: https://sid.business
In this episode, I spoke to Raina De, owner of Marque & Brew - a company which helps startups with their marketing/branding needs.
We spoke about the idea behind starting M&B, why marketing agencies don't charge for strategy, how having a business parent can be more important than going to business school & more!
If you're a startup looking to create a long lasting brand - check M&B's Instagram page here.
(00:00): Introduction
(01:07): The idea behind starting Marque & Brew
(04:12): Why do marketing companies not charge for building marketing strategies?
(07:53): What are the other services that Marque & Brew provides? ~ growth hacking/ branding/consultations
(10:59): Talking about the advantages of having a business parent and the difference b/w a Founder and a Co-founder
(17:20): What would be the one thing that Raina would change about the Indian Marketing Industry?
(21:11): Raina's vision for Marque & Brew